April 30, 2016
Featured applicant: Amazing Guitarist Tobias Rauscher
This week we are featuring an amazing guitar player Tobias Rauscher from Berlin, Germany. We asked Tobias a few questions about his unique percussive guitar technique! 
Check out his ISINA profile and the interview! 
Please explain, what exactly is a "modern percussive guitarist"? And what differentiates you to other guitar players?
A modern percussive fingerstyle guitarist is using only his guitar to express him- or herself. Hereby, the guitar is the one and only instrument that provides the lead melody, the chord rhythm as well as the percussive beat. The percussive beat is produced by hitting different areas on the body of the guitar to emulate the sound of a drum kit. 
Combining all these musical elements on just one acoustic guitar is quite complex and demands the use of sophisticated techniques.
The main difference between percussive fingerstyle guitarists and other guitarists is that the majority of other guitar players use the guitar as a rhythm instrument to be a part of a band or to support vocals. Even if the guitar plays solos, it is mostly backed by other musicians or at least jam tracks. Percussive fingerstyle guitarists rely only on the acoustic guitar itself and write full songs with only one guitar and nothing else - pure and clean.
"Five years ago I totally got into playing modern percussive fingerstyle and jamming around with unusual tunings and complex techniques." What kind of unusal tunings and complex techniques did you come up with and why?
When I discovered percussive fingerstyle I was amazed by the possibility to write full songs without needing to find a singer, in order to express myself as a musician. Especially when playing with a singer, the vocals are always the main focus and the guitar is only the support. Now, by playing percussive fingerstyle on the guitar, I am able to make music independently. 
But in order to write complex musical arrangements, you sometimes have to change the tuning to be able to play chords and melodies at the same time. I often try around and tune the strings, until I have the notes where I need to have them. One of my favorite tunings is for example the open EbM7 tuning (Eb G D G Bb D). This tuning is basically an open minor chord which sounds already good even if you don't fret any notes. This way it is much easier to play chords, for example with just one finger. This then allows you to use your remaining fingers to add even more notes to create a melody on top of the chords. 
One of the most important technique for me is the legato technique. This technique enables me to play melodies only with my left hand (by playing hammer-ons and pull-offs) and I can use my right hand to play something different on top, such as a bass line or percussive elements.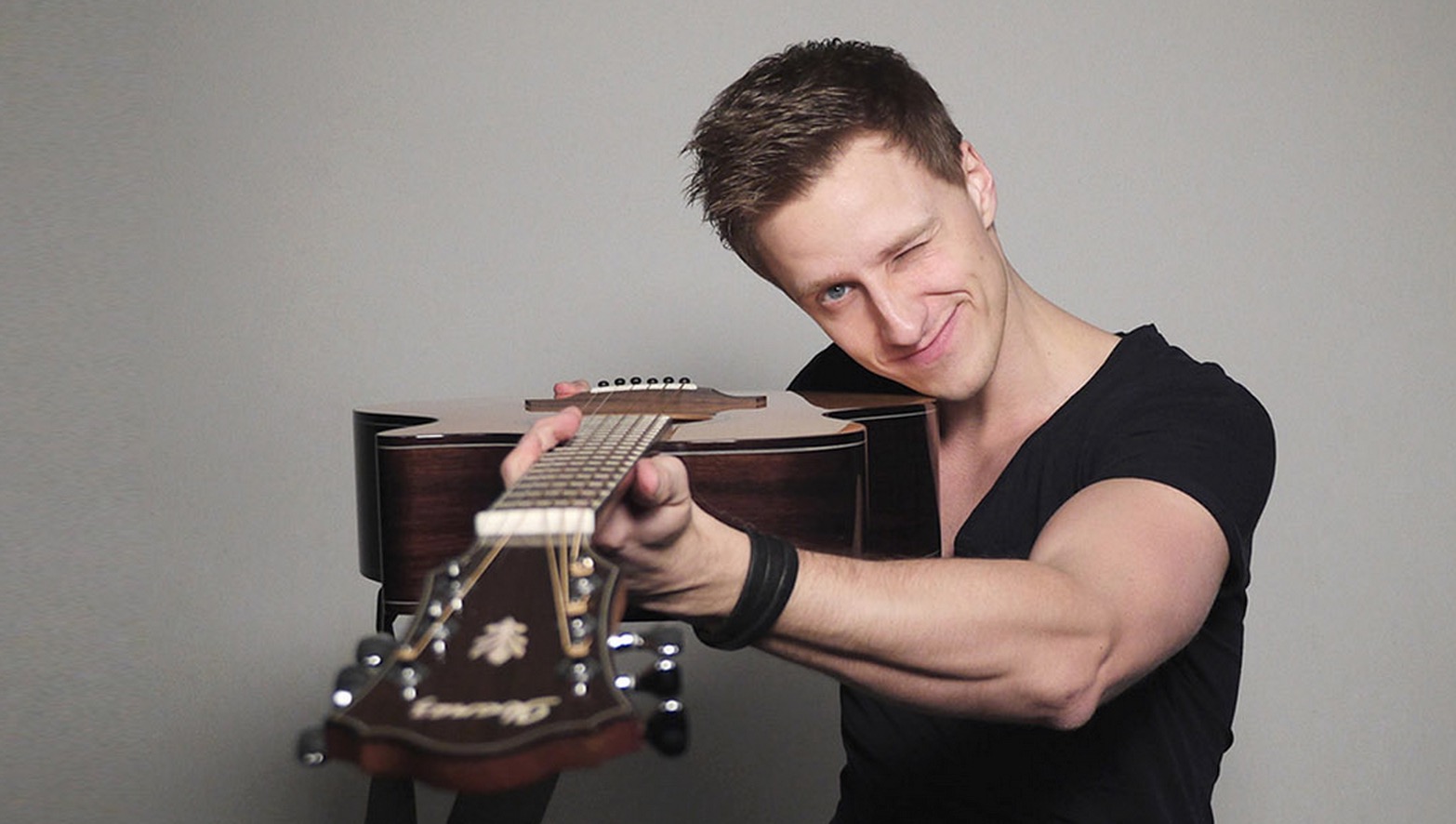 Where do you draw your creativity / inspiration from?
The funny thing is, that I draw my inspiration from completely different kinds of music. I mainly listen to rather heavy music and this combined with experiences from life and or emotions are somehow the basis for me to write my percussive fingerstyle songs. Just with regards to the technical aspects I am looking for inspiration by watching other percussive fingerstyle guitarists.
What means music to you and what do you want to express with your music? 
Music is such an important part of my life. Music is my meditation, remedy and voice. It helps me to process and express my emotions without the need to have lyrics for it. It is an international language that communicates on an emotional rather than a rational level. In the first place, I don't want to send out a certain message with my music but rather inspire and mesmerize people that are listening to my music.
Tell us about your academy!
Percussive fingerstyle is a growing guitar movement that inspires more and more people globally. I received many mails and requests of people who have seen my videos on YouTube asking me for advice or lessons, on how to learn percussive fingerstyle on the guitar. 
I then decided to create an online Guitar Academy (
www.tobiasguitar.com
) to teach all the important techniques, such as legato playing, two-hand-tapping, harp, tap and slap harmonics, percussive playing and slapping up to songwriting and composition methods. On top of that I teach guitarists how to record their own guitars at home and how to shoot videos to start their own YouTube channel. 
In order to build my Academy, I talked to my existing students and conducted surveys, to learn myself what other guitarists want to learn exactly. Based on the feedback and results, I created and an in-depth teaching method to teach how to play modern percussive fingerstyle. The full process took about one year of concept creation, video tutorial production and website development.
My Guitar Academy consists out of several modules, filled with guitar tutorials and exercises. Furthermore, I created a Riffbox section in which I publish my best and yet unused riffs on a weekly basis, along with the tabs and play-alongs. This section motivates, inspires and helps my students to learn how the newly learned techniques can be implement in real songs. Besides the main modules and Riffbox riffs, there is a song course section in which I teach how to play my songs step-by-step, with in-depth tutorials.
By now the Academy is already really international with several hundred students from more than 45 countries around the world.